Dark Archer
From Atlantica Online Wiki
Info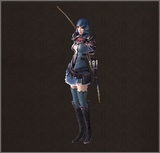 | | |
| --- | --- |
| Grade: | D |
| Basic Attack: | Bow |
| Off-hand: | Arrows |
| Range: | |
Strength:
220
Intelligence:
342
Dexterity:
370
Vitality:
290
Defence:
415
Magic Defence:
250
???
Description
The Dark Archer can send her arrows to any enemy on the battlefield, making her an excellent sniper for your formation. She may only hit one target at a time, but her high attack power and range more than make up for this.
As a Dark Archer, she adds Multi Arrow to her magical arsenal, allowing her to rain magic damage on multiple targets.
Upgrades
Abilities
Recruiting
You can start the recruting quest from Chironia, which requires a level 100 Archer.
While there is not restriction on how many Archers can be in one formation, only 1 Dark Archer is allowed.
To transform an Archer, use the Immortal Spirit Stone.
Similar Class
Bow Main, Celestial Hunter Main, Archer, Dark Archer, Empress, Hwarang, Prophet, Centaur Archer