Gunner
From Atlantica Online Wiki
Info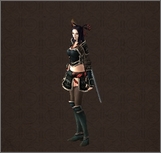 | | |
| --- | --- |
| Grade: | D |
| Basic Attack: | Gun |
| Off-hand: | Bullet |
| Range: | |
Strength:
150
Intelligence:
220
Dexterity:
220
Vitality:
170
Defence:
80
Magic Defence:
225
???
Description
With a single Bullet, the Gunner can hit an entire column of enemies from front to back! She has lots of health for a ranged mercenary, but not enough defense to stay on the front line.
While her normal attacks are great for keeping large groups of enemies stunned, her Wild Shot magic is an effective way to deal a heavy dose of damage.
Upgrades
Abilities
Recruitment
One of the few starting mercenaries that you can choose from during the "pregame". You can also recruit them at the mercenary seller near your starting town.
Similar Class