Hwarang
From Atlantica Online Wiki
Info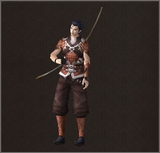 | | |
| --- | --- |
| Grade: | C |
| Basic Attack: | Bow |
| Off-hand: | Arrows |
| Range: | |
Strength:
172
Intelligence:
221
Dexterity:
281
Vitality:
186
Defence:
76
Magic Defence:
270
???
Description
Hwarangs are strong mercenaries who can decrease the attack power of enemies' instrument-type mercenaries and block their magic. They increase long-range mercenaries' attack power and combo rate.
Moreover, they increase Allies' attack power by sacrificing themselves at dangerous moments.
Upgrades
Abilities
Recruitment
You can start the Hwarang Recruitment Quest from Hwarang Kim Yoo Shin near Bulguksa.
Similar Class
Bow Main, Celestial Hunter Main, Archer, Dark Archer, Empress, Hwarang, Prophet, Centaur Archer