Shaman
From Atlantica Online Wiki
Info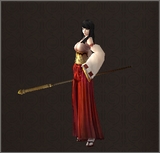 | | |
| --- | --- |
| Grade: | D |
| Basic Attack: | Staff |
| Off-hand: | Orb |
| Range: | |
Strength:
150
Intelligence:
230
Dexterity:
130
Vitality:
150
Defence:
80
Magic Defence:
450
???
Description
The Shaman has devoted herself to doing the will of the gods. Her physical attacks aren't very powerful, but her magic ranges from healing spells to damaging hexes to chants that send your mercenaries into a berserker rage.
Her Blessing of Life restores health, while Hex of Darkness inflicts damage over time on two targets. Brutal Will gives a huge boost to attack power, action power, and multi-hit rate, though you lose control over mercenaries it affects.
Upgrades
Abilities
Recruitment
One of the few starting mercenaries that you can choose from during the "pregame". You can also recruit them at the mercenary seller near your starting town.
Similar Class
Staff Main, Battlemage Main, Monk, Shaman, Witch, Elementalist, Princess, Oracle, Astrologer, Goddess, Sorceress