Witch
From Atlantica Online Wiki
Info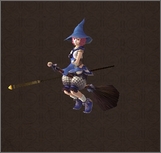 | | |
| --- | --- |
| Grade: | C |
| Basic Attack: | Staff |
| Off-hand: | Orb |
| Range: | |
Strength:
120
Intelligence:
280
Dexterity:
250
Vitality:
180
Defence:
50
Magic Defence:
500
???
Description
The Witch may look like a normal girl, but behind her mischievous smile lies the knowledge of ages. Their broomsticks allow them to fly over most melee attacks, and their magical mastery lets them shower fiery devastation from the heavens.
They don't have much health, but their magic more than makes up for it. With Mana Drain they can steal magic points from enemies, while Mana Recharge restores allies' magic points. And when you need to deal massive damage, their Meteor Strike summons destruction from the skies to ravage the enemy formation.
Upgrades
Abilities
Recruitment
You must be lvl 51. You can start the Witch Recruiting Quest through Vivian near Library of Shadow.
Similar Class
Staff Main, Battlemage Main, Monk, Shaman, Witch, Elementalist, Princess, Oracle, Astrologer, Goddess, Sorceress