Elementalist
From Atlantica Online Wiki
Info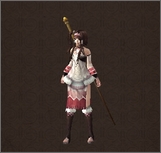 | | |
| --- | --- |
| Grade: | B |
| Basic Attack: | Staff |
| Off-hand: | Orb |
| Range: | |
Strength:
152
Intelligence:
292
Dexterity:
160
Vitality:
194
Defence:
50
Magic Defence:
250
???
Description
The weather itself bends to the Elementalist's will. With blustery blizzards and beating suns, she weakens the resolve of any melee warrior she meets.
Her Freezing Atmosphere spell will prevent enemy melee mercenaries from using magic, while Blazing Earth deals heavy damage and decreases attack power.
Upgrades
Abilities
Recruitment
You can start the Elementalist Recruiting Quest through Wise Orenda near the Valley of Oblivion.
Similar Class
Staff Main, Battlemage Main, Monk, Shaman, Witch, Elementalist, Princess, Oracle, Astrologer, Goddess, Sorceress